Pervez Bilgrami is a famous fiction writer, novelist, poet, and biographer who authored hundreds of stories and novels. He has a long career and wrote over five thousand stories with different pen names. He wrote on romance, suspense, thrill, and adaptation but enjoyed horror novels.
Pervez Bilgrami is now writing a reenactment for the Dawn news television channel, which dramatizes some strange events.
Early Life:
Pervez Bilgrami was born in 1962 in Dhaka, East Pakistan. His father, Mazhar Ali Jauhar, was a prominent poet and writer who earned fame as a film director. He directed dozens of movies in Urdu and Bengali language. Mazhar Ali Jauhar was the son of Allama Mehmood Hassan, a famous scholar, and religious leader.
Mazhar Ali migrated to West Pakistan when an insurgency started in Dhaka. He selected the city of Karachi for his residence and career. But soon after, he died when the Bilgrami was only ten years old. Pervez Bilgrami left his study incomplete and started to work in his childhood. He had some talent and a craze for football and failed to make his career for family issues.
First Story:
Pervez Bilgrami started to write when he was a child of seven years. He wrote some stories for children's magazines and got appreciation from his father. He had many talents for writing, which was highlighted in his student life. Later, he started to write for the children's edition of Daily Jang.
Family Life of Pervez Bilgrami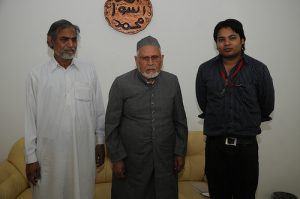 Pervez Bilgrami married in 1993 at the age of 31 and started to live a peaceful life. He has a small family with two sons and one daughter. He focused on the life and career of his children and tried to provide them with everything he did not find in life.
Professional Career:
Pervez Bilgrami met Shamim Naveed, who played a vital role in enhancing his career. Pervez joined Sachi Kahaniyan as a subeditor and started working under Shamim Naveed's supervision. Soon after, he became the editor of this digest and worked hard for the circulation of this journal.
Pervez Bilgrami left the Dosheeza Group of Publications for personal reasons and joined the Jasoosi Group. He started to work as the editor in the monthly Sarguzasht digest, which continued till the days. He did some new experiments and patronaged the new writers in this institution.
Writers Award:
Pervez Bilgrami got many awards throughout his career for his services in promoting Urdu fiction and literature. He upheld two times the Dosheeza writer award for a decade. He also got the Best Writer Award in 2003, but his main prize is the appreciation of his readers who live across the world.
List of Pervez Bilgrami Novels / Literary Works:
Pervez Bilgrami wrote some super hit serialized novels and stories published in the digests. He also used some pen names and wrote thousands of accounts under this. He is the only writer in Pakistan who introduced a short story of one page, which is viral on social media sites. Here is a list of some super hit Pervez Bilgrami Novels, also available in pdf.
It was the first novel by Pervez Bilgrami, published in Sachi Kahaniyan in the episode. It describes the life of a man who witnessed the bloodshed in the partition of India.
This story describes the life of Muslims in Europe and America after 9/11. Pervez Bilgrami portrayed the social scenario where Muslims are forced to live. We can frequently say it one of the best Pervez Bilgrami Novels.
It is another famous novel by Pervez Bilgrami, full of adventure, thrill, and suspense. It describes the mission of a scientist who failed in his cause. He had some traitors in his team who played a role in his failure.
It is an excellent social, romantic, and patriotic novel that describes a man's life with some strange qualities. He is always ready to help others and serve humanity with his talent.
It is an excellent social, romantic, and adventure story of a couple who live in Iran. They started the food supply business and faced some strange things and events after that.
This story also is written in the context of the partition of India and the creation of Pakistan. The writer discussed the difference between Hindus and Muslims. He explained their cultures and religions.
In this novel, the writer describes an adventure, horror, and suspense story of a man who wants to eliminate the black magic and evil forces. He traveled to India and escaped evil powers with some pious people's help.
Pervez Bilgrami discussed the reasons for the separation of East Pakistan and Dhaka Fall in this novel. He talked about the conspiracies of the politicians and the activities of Mukti Bahni. He commented on the military operation which led to the surrender.
It is an adventure and thrilling story describing the life of a girl Jin influenced. A man who knew the black magic also intervened in the story. The writer told some strange characters and fearful events in it.
It was another horror novel by Pervez Bilgrami, describing some unexpected events in Bengal. The writer talked about the influence of the alien forces on the life of the people.
It is an excellent novel that describes the life of a man who dreamed of the future. He chose the wrong way and left home. His family considered him a Shaheed, and her wife married some other.
Mata e Dil O Jaan
It is another thriller by Pervez Bilgrami, was published first in the digest, and is now available in book form.
Dast e Alam Mein
It is also a thrilling and suspenseful story that gained much readership and appreciation. It published in a digest of Urdu in the episode.
Aatish e Junoon
It is a social and romantic novel that describes many sweet and sour realities of life. It was also published in Sachi Kahaniyan and later released in a book.
Mi Ayad
This story is a horror novel that describes some unique characters and fearful events. The story's central theme is evil forces that influence the life of the people in many contacts.
Manzilain Gardish Mein
It was also a thrilling and action story by Pervez Bilgrami, which describes the ups and downs of life. A man who did not lose heart always got success in life.
Mashaheer e Dauran
It was a serialized biography of Urdu's great poets, published in a Sachi Kahaniyan. Pervez Bilgrami wrote all the essays on a story pattern.
Yaad e Raftagan
It is a serialized memory by Pervez Bilgrami, released on a website. He talked about many famous writers, events, and personalities.
Dastan e Auliya
It was a series of biographies of Muslim saints and Sufis who played a vital role in the expansion of Islam.
Mojza, Kab, Kiyon, Kaise
It was about the miracles and their logical and religious reasons, which for many years in a digest.
Last Words
At last, I hope you liked the life history and the list of Pervez Bilgrami Novels. You may also want to read Qayyum Nizami and Amjad Islam Amjad's biographies.